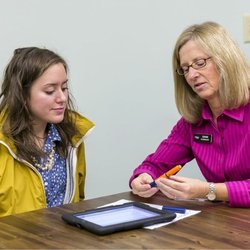 With the increased demands on healthcare providers, you need more than just a pharmacy – you need a partner in health. We want to be your partner in health.
Specialty Services
Immunizations
Our pharmacists are certified to provide many different vaccines including Influenza, Pneumonia, Shingles, Hepatitis B, Meningicoccal, and many more.
Diabetes Care
We can provide all of your diabetic supplies and bill Medicare and other insurers for these services. We also go over how to use your diabetes supplies to ensure you understand how to use them.
Compression Stockings
We provide you with a personalized and private appointment to get sized and pick out your desired product. Special orders come in the next day and our team helps with fitting the stockings and making sure you know how to put them on.
Delivery
Enjoy the convenience of having any of your prescriptions delivered to you with our affordable same-day delivery program.
Medication Management/Adherence
Our pharmacist will partner with you and your physician while reviewing your medications to determine your best treatment plan. If you have ever forgotten to take or refill your medication – let us make your life easier. We have programs designed to address these concerns.