COPD 101
COPD, or Chronic Obstructive Pulmonary Disease, is disease that causes the airway to become narrow, making it difficult to breathe. COPD is a common and preventable disease which affects more than 5% of the population, and is the third ranked cause of death in the United States. COPD cannot be cured, and it usually gets worse over time, but there are treatments that can help. There are different types of COPD, including emphysema and chronic bronchitis.
What causes COPD?
The most common cause of COPD is smoking. Other causes include breathing toxic fumes, or living in a heavily polluted area.
Your physician will diagnose COPD using spirometry, a test that involves blowing into a device that measures your breathing to test for narrowed airways. They will also ask you about your symptoms of COPD.
What are the symptoms of COPD?
COPD may start with no symptoms, or only have symptoms when you are active, but as the disease gets worse, you may experience shortness of breath, wheezing, and coughing up mucous.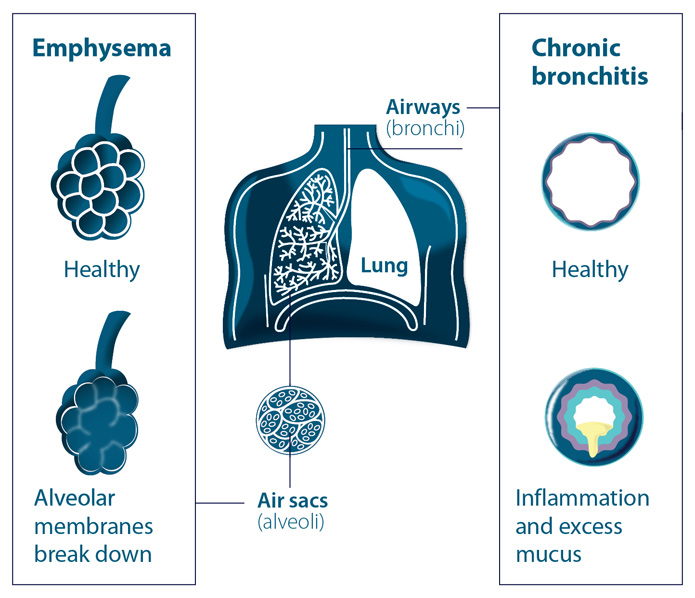 Having COPD increases your risk for other problems, including infections (like pneumonia), lung cancer and heart problems.
COPD can be mild, moderate or severe:
Mild

COPD means you may cough a lot, and sometimes you cough up mucous. You may feel a little out of breath if you work hard or walk rapidly.

Moderate

COPD means you may cough more, and you cough up mucous. You often feel out of breath if you work hard or walk rapidly. You may have trouble doing hard work or chores, and you may take several weeks to recover from a cold or chest infection.

Severe

COPD means you may cough even more, and cough up a lot of mucous. You have trouble breathing both day and night. You may take several weeks to recover from a cold or chest infection. You can no longer go to work or do chores around your home. You cannot walk up stairs or across the room very well, and you tire easily.
How can I feel better?
If you have COPD there are two important things you should do:
Stop Smoking

– if you smoke, the most important thing you can do is to quit smoking. It does not matter how long or how much you smoke, quitting now will slow your disease and help you feel better. Ask your pharmacist about today about how to quit. Nicotine replacement therapy, prescription medications, as well as counseling are available to help ease the quitting process.

Stay Vaccinated

 – Get the flu shot every fall, and the pneumonia vaccines at least once – Infections like the flu and pneumonia are very hard on your lungs, so it is important to try and prevent them.
How is COPD treated?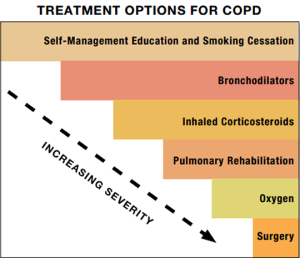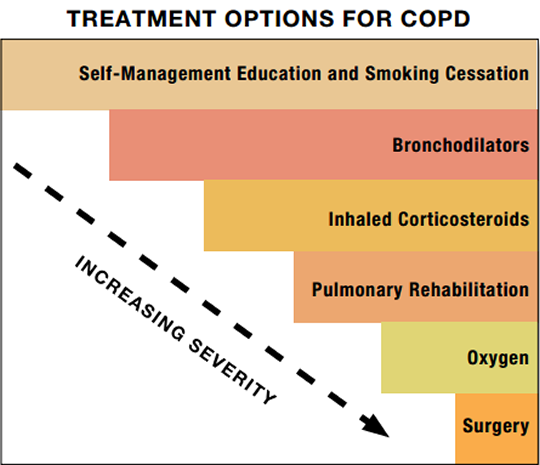 Day-to-day treatment of stable COPD:
Regular exercise, including pulmonary rehab (exercises and ways to breathe to ease symptoms)
Short acting rescue inhalers – may be introduced when you don't have many symptoms to help control wheezing and shortness of breath. You should always have access to your emergency inhaler, but you should not need to use it on a daily basis

Albuterol, levalbuterol
Ipratropium (Atrovent HFA) – can be used as needed, or may be scheduled three times a day, not a typical rescue inhaler
Short acting combination inhaler: albuterol/ipratropium (Combivent, Duoneb)
Long acting inhalers, used daily to help control symptoms, and prevent exacerbations
arformoterol (Brovana), formoterol (Foradil/ Perforomist), indacaterol (Arcapta Neohaler), olodaterol (Striverdi Respimat), salmeterol (Serevent Diskus)
tiotropium (Spiriva/ Spiriva Respimat), umeclidinium (Incruse Ellipta)
Available in combination inhalers: vilanterol/umeclidinium (Anoro Ellipta), tiotropium/ olodaterol (Stiolto Respimat)
For those with high risk of exacerbations use of an inhaled corticosteroid is recommended

Corticosteroids should not be used by themselves to treat COPD
Available combination inhalers: formoterol/budesonide (Symbicort), formoterol/mometasone (Dulera) salmeterol/ fluticasone (Advair Diskus Advair HFA), vilanterol/ fluticasone (Breo Ellipta)
Single product inhalers can be added to a current bronchodilator treatment

If inhaled treatments are not working effectively for you, your doctor may prescribe theophylline or roflumilast. These are oral medications that may help you manage your disease.
If your disease has progressed far enough, you may have a lot of difficulty with your breathing and may require an oxygen tank to ensure that your body is receiving enough oxygen.
COPD exacerbations, or a COPD "flare" occurs when you experience worsening of symptoms, beyond your normal day-to-day variations. These often lead to a change in medication. Symptoms of a COPD flare might include increase in frequency and severity of cough, increase in mucous, or a change in color or volume of mucous, experiencing more difficulty breathing. Most COPD flares are triggered by an infection. Many infections are caused by viruses and do not require antibiotics.
Mild flares

can be treated at home

Your doctor may recommend steroids in a pill for a few days or weeks, to help get your symptoms under control. Taking these medications for longer than 2 weeks can lead to serious side effects.
You may take some of your medications through a nebulizer, this may work better than an inhaler when you have a COPD flare.

Severe flares

may require hospitalization

You may receive steroids that come in an IV
You may receive antibiotics in the hospital, this may be in an "IV" – an IV is a thin tube that goes into a vein. You may continue antibiotics by mouth when you return home to ensure your infection has cleared up.
How can Health Park Pharmacy help you with your COPD?
Health Park Pharmacy can help you manage your COPD. We offer:
Smoking cessation advice and products
Vaccines, including your annual flu shot and the pneumonia vaccines. We have pharmacists that are certified in giving these vaccinations.
Advice on the different types of inhaler you may have, and the best way to use them
Over the counter treatments to manage an acute cough during cough and cold season
Help with other medical conditions that may make your COPD more difficult to manage
We can also communicate with your doctor to help manage your COPD and help prevent flares. If you have recently been in the hospital for a COPD flare we can help manage your new medications and talk to your doctor about your care, to reduce your risk of returning to the hospital.
Written by: Erin Brown, PharmD Candidate, UNC
                 Jonathan Wall, PharmD Candidate, Campbell University
References
1) Stoller, James K. Management of exacerbations of chronic obstructive pulmonary disease. In: UpToDate, Barnes PJ (Ed), Hollingsworth H (Ed), UpToDate, Waltham, MA.
2) Ferguson, Gary T. Make, Barry. Management of stable chronic obstructive pulmonary disease. In: UpToDate, Stoller, JK (Ed), Hollingsworth H (Ed), UpToDate, Waltham, MA.
3) Rennard, Stephen I. Chronic obstructive pulmonary disease: Definition, clinical manifestations, diagnosis, and staging. In: UpToDate, Stoller, JK (Ed), Hollingsworth H (Ed), UpToDate, Waltham, MA.
4) Patient Information: COPD, Including empheysema (The Basics). UpToDate, Waltham, MA.
5) Global Initiative For Chronic Obstructive Lung Disease. http://www.goldcopd.org/guidelines-resources.html
6) Image and caption text via https://www.blf.org.uk/Page/what-is-COPD, http://www.usmedicine.com, http://mooremedical.com,
 http://fiercepharmaasia.com, http://albuquerquedaycare.org, http://chaindrugreview.com